Over the centuries, tattoos have evolved into an increasingly popular and exquisite art form, reflecting personal stories and aesthetic expressions. Among the various styles and techniques used by artists today, blackwork tattoos stand out for their bold and impactful appearance. These tattoos rely on a solid black foundation, precise linework, consistent shading, and strategic use of negative space to create stunning visuals that make a statement. To achieve the pinnacle of blackwork tattooing, one crucial factor is the choice of black tattoo ink. In this blog, we delve into the world of Quantum black tattoo ink and explore how it contributes to the creation of flawless blackwork tattoos.
The Artist's Quest for Perfection
Crafting a blackwork tattoo demands mastery, skill, and a keen artistic eye. Artists must possess an understanding of various techniques and tools, along with the ability to execute their vision with precision. Achieving perfection in blackwork tattoos requires a blend of creativity, technique, and the right materials. One such essential material is the black tattoo ink itself, and Quantum black tattoo ink offers a range of options that artists can explore to elevate their craft.
The Blueprint for Expression
efore any ink touches the skin, a solid design concept is vital. Blackwork tattoos often feature intricate and elaborate designs, ranging from geometric patterns to illustrative motifs. These designs rely on stark contrasts and bold linework to create a captivating visual impact. Quantum black tattoo ink complements these designs by providing a rich, deep black color that enhances the overall aesthetics of the tattoo.
Building the Canvas
The foundation of a remarkable blackwork tattoo lies in achieving an even and consistent solid black base. It is important to choose a black tattoo ink that will provide a smooth and consistent black hue. Ideally, the ink chosen should be created specifically for blackwork or fill-in. This type of ink is designed to saturate the skin evenly, ensuring that the tattoo's foundation is flawless.
The Art of Delicate Details
Precision linework is where the magic of blackwork tattoos truly comes to life. Using a black tattoo ink formulated for lining will ensure that the ink flows smoothly through the needle, enabling artists to create intricate linework that defines the tattoo's contours and details. This ink's consistency ensures clean lines and reduces the risk of blotting or fading over time.
Adding Depth and Dimension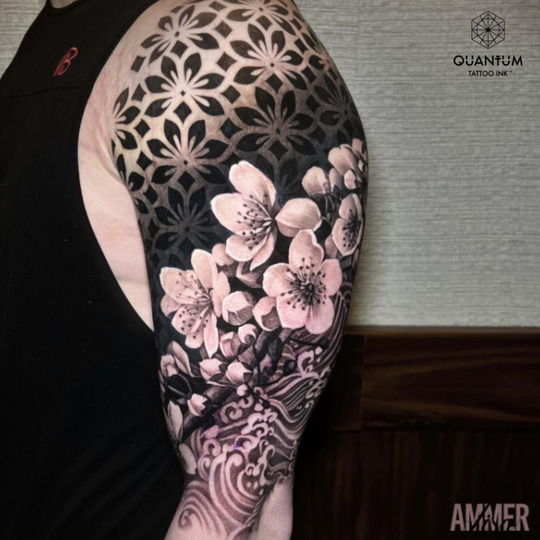 Though shading is crucial in most tattoo styles to provide depth and dimension to the design, blackwork tattoos consist only of solid areas. Instead of using sculpting black tattoo ink, artists must rely on their technique to maximize the visual impact of the tattoo. Traditional art techniques like cross-hatching and dot work add complexity, depth, and dimension without requiring gray wash tattoo ink or shading. While many artists are blackwork purists who don't incorporate any color or gradients into their blackwork, combining other styles and techniques with blackwork can create a striking and unique visual experience.
Using Absence to Create Presence
One of the defining features of blackwork tattoos is their adept use of negative space. These strategic areas devoid of ink contribute to the overall composition, creating a captivating balance between filled and unfilled spaces.
Aftercare Guidance: Preserving the Art
Creating the perfect blackwork tattoo doesn't end with the last needle stroke. Proper aftercare is essential to ensure the longevity and vibrancy of the tattoo. Use an aftercare product that is designed specifically for tattoo preservation to help maintain the ink's brilliance and the skin's health.
Quantum Black Tattoo Ink Selections: A Palette of Possibilities
Under our Gold Label, Quantum offers a selection of EU Reach Compliant black tattoo ink shades that cater to various artistic needs. Each shade has been meticulously crafted to meet the demands of tattoo artists including those who specialize in solid blackwork tattoos. Artists can bring their vision to life with confidence by utilizing this guide when selecting black tattoo ink colors for blackwork: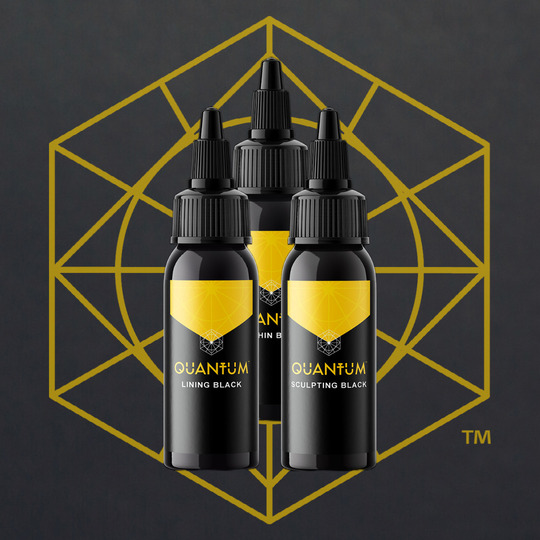 Quantum Lining Black tattoo ink is formulated to provide consistent, smooth, and even lines. It is a deep black made with carbon black and jet black pigments. Lining Black pairs perfectly with Quantum Round Liners to create crisp, clear lines.
Sculpting Black:Sculpting Black is our black tattoo ink specially formulated for fill-in and solid blackwork and remains a customer favorite. It is made with 65% jet black pigment, to create an even solid black fill that is perfect for blackwork. To create even coverage of larger areas with fewer passes, choose Quantum Magnum cartridges when using Sculpting Black for blackwork.
Bitchin Black: One of our most versatile black tattoo inks is Bitchin Black. It is created with a combination of carbon black, jet black, and extreme jet black pigments. While it is not quite as thick as Sculpting Black, it provides solid, even coverage for blackwork tattoos. If you are looking for a workhorse black tattoo ink that works for a variety of purposes, Bitchin Black is the ultimate choice. It is versatile enough to use for either lining or fill.
If you are looking for additional options for black tattoo ink, we carry a variety of options in both our Original and Gold Label formulas. You can also choose from four different tattoo needle cartridge styles in a variety of sizes to suit your needs.
In the realm of blackwork tattooing, Quantum Black Tattoo Ink stands as a dependable partner for artists striving for perfection. With a diverse range of black tattoo ink formulations and needle cartridges that cater to the nuances of blackwork tattoos, Quantum empowers artists to unleash their creativity and create tattoos that leave a lasting impression. The fusion of skill, design, and Quantum's ink culminates in blackwork tattoos that transcend the ordinary and become extraordinary works of art.