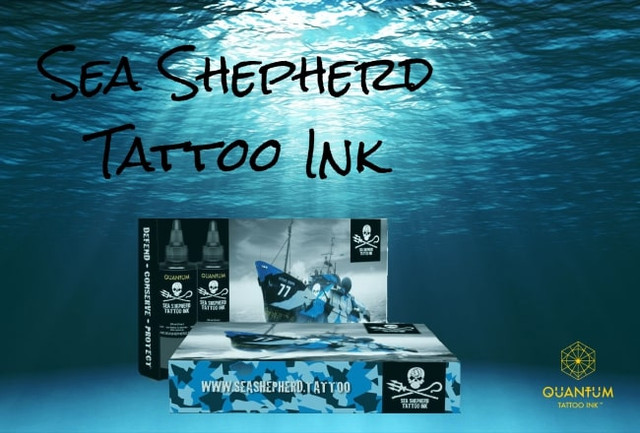 Last year, Rewriting Extinction featured Quantum Tattoo Ink partner Sea Shepherd and their Ship the Bob Barker in THE MOST IMPORTANT COMIC BOOK ON EARTH, STORIES TO SAVE THE WORLD . It features a about Sweedish Captain Peter Hammarstedt called the "The Shepherd and the Thunder." It details the crews journey on OPERATION ICEFISH and how they put a stop to the infamous poaching ship The Thunder. This piece was an international effort as it written by Ameircan author Brian Azcarello, features art by Croation comic book artist Danijel Zezelj, and has lettering done by by Chilean Bernardo Brice. The Most Important Comic Book on Earth is a collaboration between over "300 leading environmentalists, artists, authors, actors, filmmakers, musicians and more to present over 120 Stories to save the world."
How did Sea Shepherd Conservation Society Start?
Before starting Sea Shepherd Captain Paul Watson was a founding member of Greenpeace and the Earthforce Environmental Society in 1977 in Vancouver, Canada. Watson has worked on a variety of conservation efforts, including several to stop poaching, alongside Starlet Lum, Ron Precious, and Captain Al "Jet', Johnson. In 1978 the Fund for Animals and the RSPCA gave him funding that allowed him to purchase the ship that would become the Sea Shepherd.
In 2013, Sea Shepherd Global was established in Amsterdam as a base for global communications and logistics for independent entities of the movement locations throughout Europe including Icleand, Scandinavia, Germany, the Netherlands, the UK, Belgium, France, Luxembourg, the Czech Republic, Austria, Hungary, Switzerland, Italy, Spain Portugal, and Greece. The Sea Shepherd fleet has grown to include many more ships, the most well-known in their global fleet include the Ocean Warrior, the San Simeon, and the Bob Barker.
What is the Sea Shepherd mission?
The SEA SHEPHERD MISSION is to "protect defenseless marine wildlife and end the destruction of habitat in the world's oceans." This mission is broken into three core areas:
Defend Ocean Wildlife- Sea Shepherd strives to combat the main threats to ocean wildlife including poaching, unsustainable fishing, habitat destruction, and exploitive captivity. They have saved countless turtles, fish, dolphins seals, whales, sharks, and aquatic birds through their efforts.
Protect Marine Habitat- Sea Shepherd wants to do more than just keep marine life alive. They want it to thrive. They work toward that goal by taking a stand against pollution, destructive fishing gear, offshore drilling and fisheries, plastic and other trash that ends up in the ocean, and the destruction of coral reefs.
Uphold International Laws and Agreements - Sea Shepherd works to uphold international conservation laws and bring to justice those who don't by collaborating with Interpol and international governments worldwide.
What does ocean conservation have to do with tattoos?
Likely, when you think of sailors, you also think of tattoos. This history and tradition of tattooing is intertwined with that of sailors. Therefore, the fact that Sea Shepherd has their very own tattoo studio should come as no surprise. Amsterdam tattoo studio, SEA SHEPHERD TATTOO was created to help raise money for their conservation efforts. Sea Shepherd Tattoo is a place where artists can donate their time so that 100% of the cost of getting tattooed in the studio goes towards conservation efforts. To learn more about upcoming guest artists, check out @SEASHEPHERDTATTOO on Instagram. If you happen to be in Amsterdam, you can even BOOK YOUR OWN TATTOO orVOLUNTEER TO BE A GUEST ARTIST .
What products does Sea Shepherd use in their studio?
Sea Shepherd and Quantum Tattoo Ink have collaborated on a vegan, cruelty-free line of tattoo products that are made with organic, natural pigments sourced from the earth. None of the pigments ever come from animals. Wherever in the EU you tattoo, you can be part of the conservation efforts without going all the way to Amsterdam. Your purchase of these special series of earth-conscious tattoo inks supports Sea Shepherd! They can be purchased INDIVIDUALLY and also come in three specially choasen sets. The SEA SHEPHERD GRAY WASH SET includes two black inks and four gray washes in varying shades. The SEA SHEPHERD WHALE SET includes six different colors in blues, greens, and grays. The SEA SHEPHERD SHARK SET includes four grays and two reds to represent the unnecessary bloodshed of sharks worldwide.
A portion of all proceeds from Sea Shepherd inks goes toward their conservation efforts in Europe and around the globe.
To learn more about how you can get involved with Sea Shepherd, check out their WEBSITE or INSTAGRAM ACCOUNT.
Image information: The Sea Shepherd ship Sea Shepherd II at the pier in Key West in May 1991. Photo by Ray Blazevic. Creative Commons Attribution 2.0