By now, the EU REACH regulations that went into effect over a year ago have become commonplace. The dust has settled a bit on the European tattoo ink market. Some tattoo ink manufacturers have embraced this change and created new lines dedicated to making the tattoo ink industry in Europe the safest it has ever been. However, what makes an EU REACH Compliant tattoo ink rise above the best to become the best tattoo ink in Europe? Let's consider a few factors that will help you choose which is the best tattoo ink for your studio and your clients.
Ink Safety Regulations
If you have used tattoo ink in Europe in the last year, you already know that the European Chemicals Agency (ECHA) has standardized the regulations for tattoo ink across Europe. They created sweeping legislation that has required tattoo ink manufacturers to abandon some of their original ingredients for ingredients that meet REACH regulations. Tattoo ink must now undergo much more stringent testing to ensure REACH compliance. For tattoo artists who value their client's safety and the integrity of their work above all else, using REACH Compliant products matters more than ever.
In addition to the newer REACH regulations, the best tattoo ink is also thoroughly inspected for safety, quality, and reliability. Tattoo ink should also undergo a sterilization process to ensure that every batch shipped is free from yeast, bacteria, impurities, and other pathogens. This minimizes the risks to your clients and your reputation.
What qualities make a tattoo ink the best tattoo ink on the market?
Aside from considering the safety factors involved in tattoo ink, choosing the best tattoo ink also means knowing how it compares when it comes to several key characteristics. The most important of these include the following: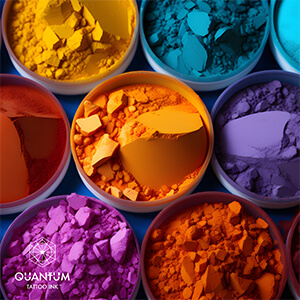 Pigment Quality: The pigments contained in the tattoo ink are the backbone of creating beautiful and long-lasting tattoos. The best tattoo inks on the market will have high-quality pigments with a consistent consistency. High-quality pigments will be more stable when they are exposed to UV light and environmental factors, making them more fade-resistant and giving the tattoos you create a longer lifespan.Quantum Tattoo Inks are made with only the highest quality organic pigments. This ensures that your work looks brilliant not just when it is fresh, but that it looks amazing as it heals.
Pigment Concentration and Consistency: The best tattoo inks don't just rely on high-quality ingredients, they know how to use them. Formulating the best tattoo ink requires understanding the exact pigment concentration and consistency that artists need to ensure a smooth flow and optimal results. Tattoo inks with higher pigment concentration and an even consistency will create more vibrant results with even coverage throughout. When it comes to pigment concentration and consistency, you can count on Quantum. We know that the best tattoo ink has a high pigment concentration and a smooth and even flow to give you the best tattoo ink experience. When you use Quantum, you can see and feel the difference in how the ink flows, how it packs, and how vibrant it looks.
Color Vibrancy and Fade Resistance: When you combine high-quality pigments with a highly pigmented formula, you have a recipe for success. Tattoos will be more vibrant at the start and fade more slowly. They will also maintain a more consistent appearance over time. The best tattoo artists trust Quantum because their work doesn't just look great during the session, it remains true and vibrant for years to come. It reduces the need for touchups and increases client satisfaction. Happy clients are clients that come back!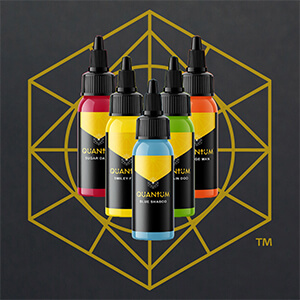 Versatility & Range of Colors: It is not enough to just produce highly pigmented, high-quality inks. The best tattoo ink companies offer a wide range of colors to ensure that artists have every shade they need to make their vision become a reality. Tattoo inks should also be versatile. Choose quality inks with a high pigment concentration that blends easily with other colors or can be thinned using a safe and sterile mixing solution developed for color tattooing.While we already offer a huge range of colors, any Quantum Tattoo Inks can be mixed to create new custom shades. Whether you want to have the entire rainbow ready at your fingertips or prefer to custom blend new colors for each client, rest assured that Quantum is the best tattoo ink choice. You can also use Quantum Gold Label Holy Water Mixing Solution to blend and dilute our highly pigmented inks to your heart's content. With specialized formulas for color tattooing and shading in black and gray, you are bound to find what you are looking for.
Compatibility With Different Skin Types: Pigment is not the only ingredient to take into consideration when choosing the best tattoo ink. The additives and other ingredients contained in tattoo ink should be safe, pure, and natural to decrease the chance of reaction or other tattoo complications. At Quantum, we are so proud of our ingredients that we make a list of our main ingredients on our website and share the qualities that made us choose each one. We also publish our Safety Data Sheets in 27 languages.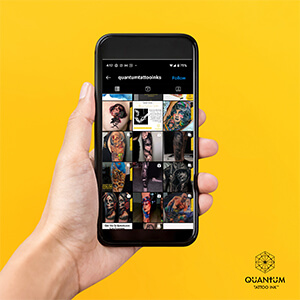 Brand Reputation and Responsibility: The best tattoo ink should have more than just an outstanding reputation and reviews, it should also reflect your values. Check for outstanding reviews and lots of images of work created with the brand. Additionally, choosing an ink that is environmentally friendly, vegan, and cruelty-free will let your clients know that you care about our earth and all the creatures that make it their home. You don't have to trust us, you can see for yourself the exceptional work that tattoo artists just like you have created with Quantum Tattoo Ink on our Instagram account. Quantum takes great pride in being able to say that all of our tattoo ink colors are vegan and cruelty-free. Additionally, our ingredient sourcing and manufacturing process are carefully thought out to reduce the impact our company has on the environment.
Quantum Tattoo Inks Stands Out Among the Best Tattoo Inks in Europe
With our commitment to safety, quality, and sustainability, Quantum Tattoo Inks are in a class of their own. Our EU REACH Compliant Gold Label Tattoo Inks check all the boxes when it comes to safety, pigment quality, pigment concentration, pigment consistency, and environmental responsibility. With an unparalleled variety of vibrant and long-lasting colors perfect for almost any client, Quantum has raised the bar on what it means to be the best tattoo ink in Europe. The best tattoo artists in Europe trust Quantum, that is why they have chosen to be part of our Road Crew.