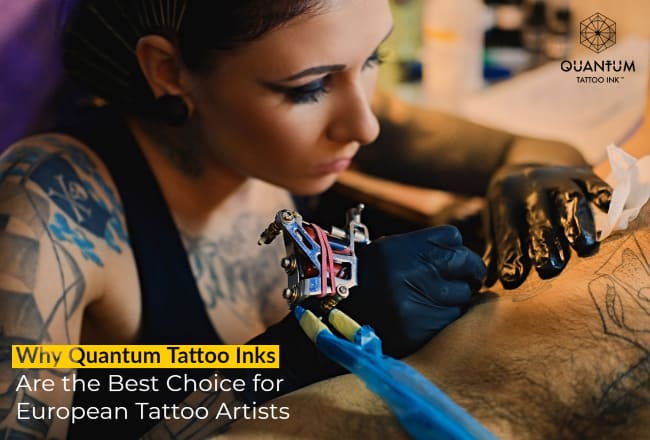 With a growing number of tattoo ink brands to choose from, and more and more companies developing EU REACH Compliant inks, it can be difficult to determine which is really the best tattoo ink. At Quantum Tattoo Inks, we let the quality of our inks speak for themselves. Plus we have an entire pro team called the Quantum Road Crew who can attest to the unparalleled quality and safety of our tattoo inks. Here are just a few of the top reasons why European tattoo artists use our compliant with EU Reach tattoo ink:
Quantum Tattoo Inks Are EU REACH Compliant and Safe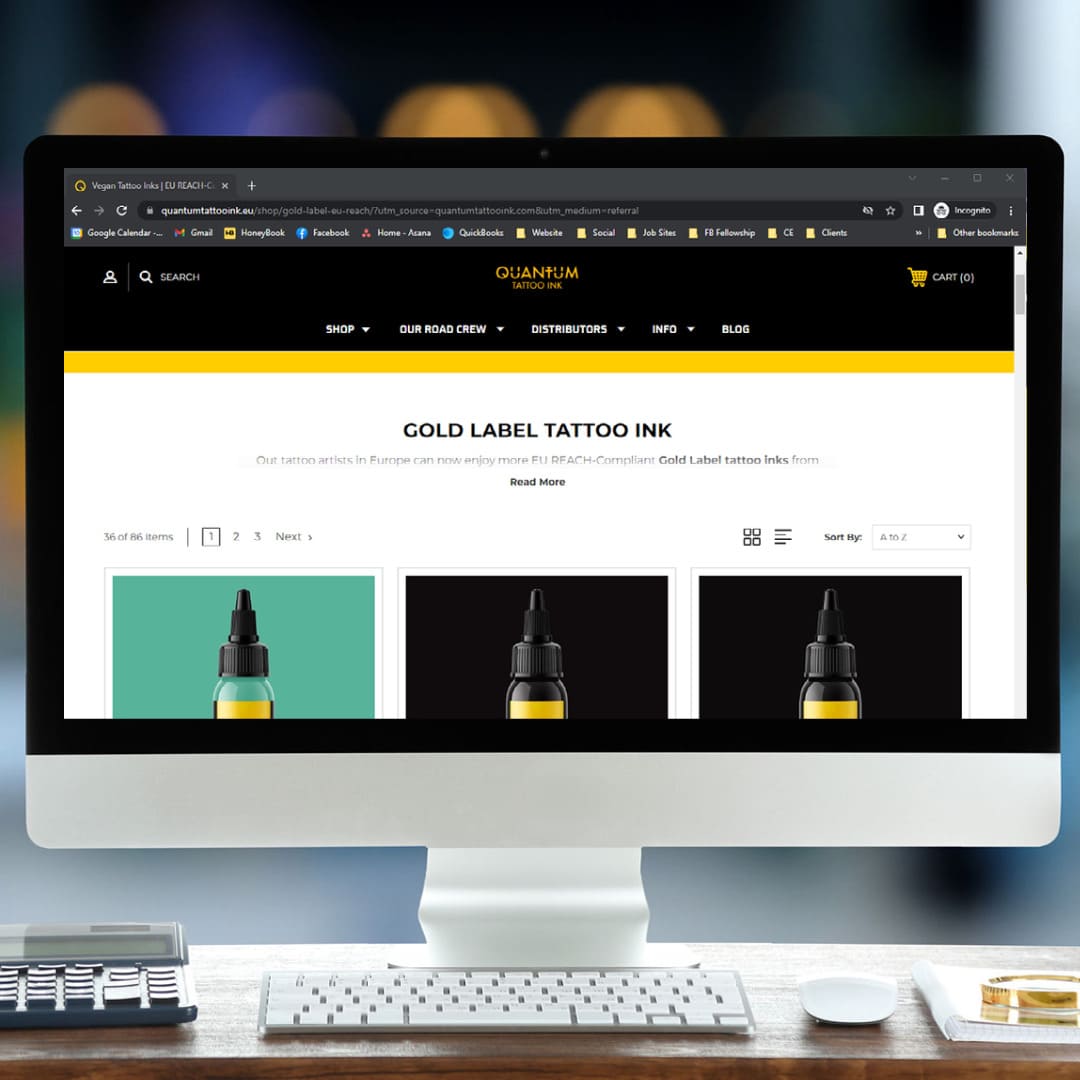 At Quantum Tattoo Inks, we are committed to safety and transparency. All of our tattoo inks go through a meticulous development process, have stringent manufacturing standards, undergo rigorous testing, and are sterilized using Gamma Radiation by a leading 3rd party medical and pharmaceutical sterilization company. Additionally, all of our Gold Label tattoo inks are EU REACH Compliant. We make the Safety Data Sheet (SDS) for each ink available on our website.
We Have an Entire Line of EU REACH Compliant Tattoo Ink
Quantum understands that the European tattoo market has been an unpredictable place over the last few years because of EU REACH regulations. We take these REACH Regulations seriously and have committed to developing, testing, and selling one of the widest selections of EU REACH tattoo inks on the European market. These compliant tattoo inks are available under the Quantum Gold Label in the EU and the US.
Our Inks Are Made With High-Quality Organic, Vegan, Cruelty-Free, and Kosher Ingredients
Because every one of our tattoo inks is organic, vegan, cruelty-free, and kosher, our inks are the preferred choice for those with lifestyles that may not permit traditional tattoo inks. Our inks do not contain any animal products and our products are never tested on animals. We also strive to use sustainable ingredients and lower our carbon footprint when possible. Using Quantum Tattoo Inks sends your client a message that you care about animal welfare, the environment, and them.
We Develop Our Inks for and With Leading Tattoo Artists
With every new color and formulation that Quantum develops, we work alongside some of the world's top tattoo artists. We listen to what artists want in their tattoo ink and reflect that in the products that we produce. A few of the key factors we consider include safety, pigmentation, consistency, ink flow, longevity, client satisfaction, and ease of use.
We Take Counterfeiters Seriously
When you purchase Quantum Tattoo Inks directly from our website or through an Authorized Distributor listed there, you can rest assured that you are purchasing the safest and best tattoo ink on the European market. Our team finds and reports counterfeit operations and uses social media to alert and educate tattoo artists about counterfeit tattoo inks. We offer incentives to tattoo artists to document and report any instances of counterfeit inks.
We Offer a Wide Selection of EU REACH Compliant Tattoo Ink Colors
Because we were one of the first tattoo ink manufacturers to start researching, developing, and manufacturing EU REACH tattoo inks, we are able to offer one of the widest selections of EU REACH Compliant tattoo ink colors for European tattoo artists. Some of this selection includes: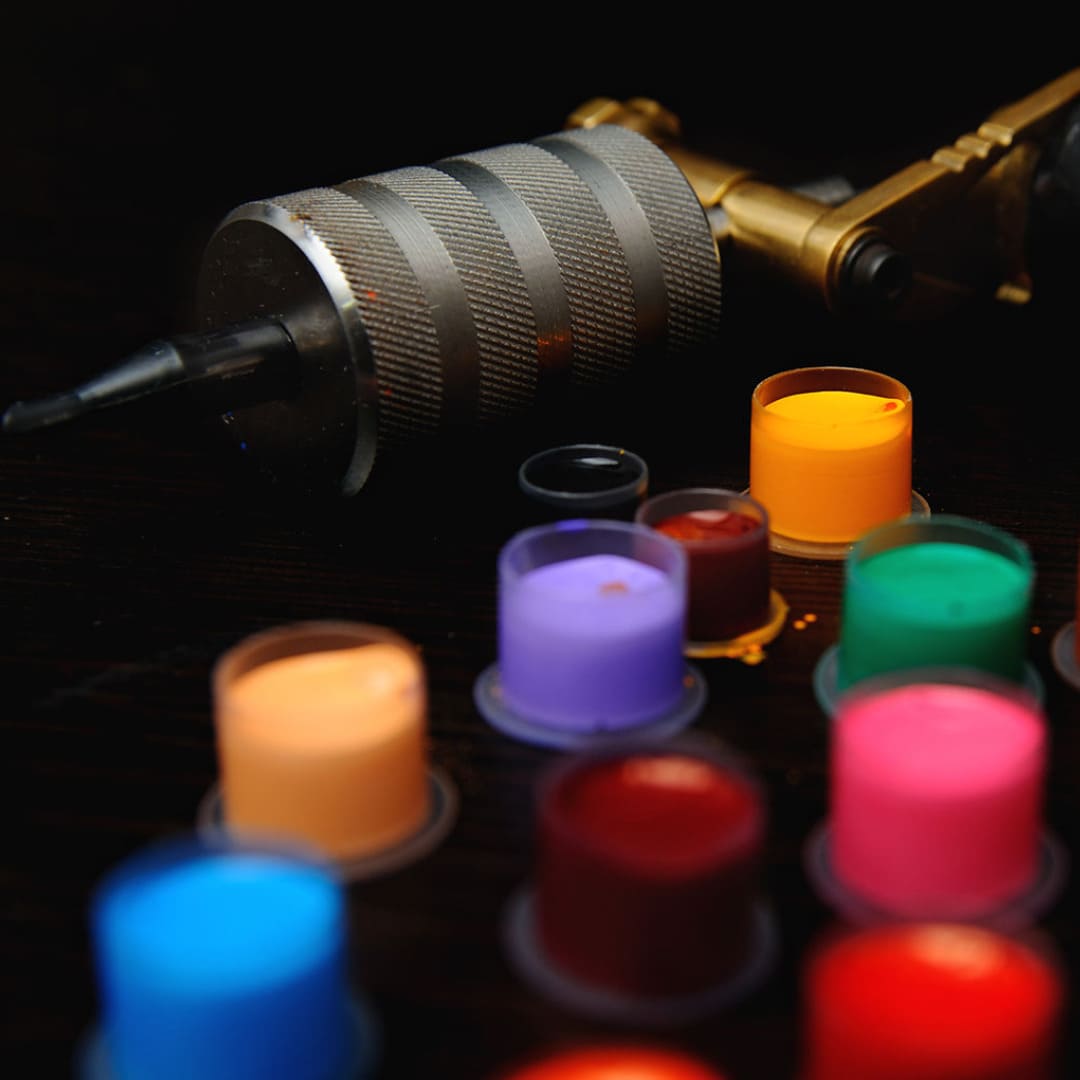 Black Tattoo Ink: We are proud to offer an EU REACH Compliant version of our black tattoo inks! For lining, try Lining Black. Assphalt and Sculpting Black are great for fill-in and solid blackwork. Bitchin Black is our most versatile black tattoo ink and is perfect for either lining or fill-in.
White Tattoo Ink: There are currently several EU REACH Compliant versions of our white tattoo ink that include bright whites, opaque whites, and off-whites.
Gray Wash Tattoo Ink: Our most popular collections of gray wash, Revenge of the Sith, Quantum Gray Wash, and Quantum Stone Wash, are available in EU REACH Compliant versions.
Color Tattoo Ink: We currently have over 50 colors of EU REACH Compliant color tattoo ink. This selection of vibrant colors includes red tattoo ink, yellow tattoo ink, blue tattoo ink, pink tattoo ink, purple tattoo ink, green tattoo ink, flesh tone tattoo ink, opaque gray tattoo ink, and many more.
Tattoo Ink Sets: If you are one of the smart tattoo artists who like to buy more and save, our EU REACH Compliant tattoo ink sets, our an outstanding cost-effective option. Some of our most popular products are available in these sets.
Artist Series Tattoo Ink: While all of our inks are created with the input of top tattoo artists, a select few artists have collaborated with Quantum in developing their own line of tattoo ink. You can find the inks we created with Arron Raw and Noa Yanni in EU REACH Compliant Gold Label versions.
Our commitment to quality, safety, and amazing results are why artists around the world trust Quantum Tattoo Ink for all their tattoo ink needs. Aside from our outstanding tattoo ink, we also offer needle cartridges, mixing solution, and aftercare. With so many reasons to choose Quantum Tattoo Inks, why not give them a try today? Artists who try them once keep coming back for more.
To stay on top of all things tattoo, including product safety, tattooing tips, and industry trends, follow us on Instagram or Facebook.